The reason I picked up two Haruki Murakami's books when I went to Border's less than two weeks ago was just because he is now the Tom Cruise of the bookish world. His newly launched book IQ84 received worldwide acclaims in the English speaking world. Contrary to the people who picked up his books just to enjoy his writings and the uniqueness of his stories, I started reading his book just because I wanted to see what the fuss is all about with this Japanese writer.
I am now halfway through both Kafka on the Shore and Norwegian Wood and I should say they should make more fuss about this Japanese genius who created such 'kaboom' novels. I've been reading these two books for the past weeks and it seems that Kafka on the Shore is much more of a masterpiece compared to Norwegian Wood (mainly because NW is a love story). I should thank my super-smart friend Jeen for recommending this book to me. I still remember how she told me how good Haruki Murakami is under the scorching sun of Johor Bharu when we went for an oil and gas conference a month ago.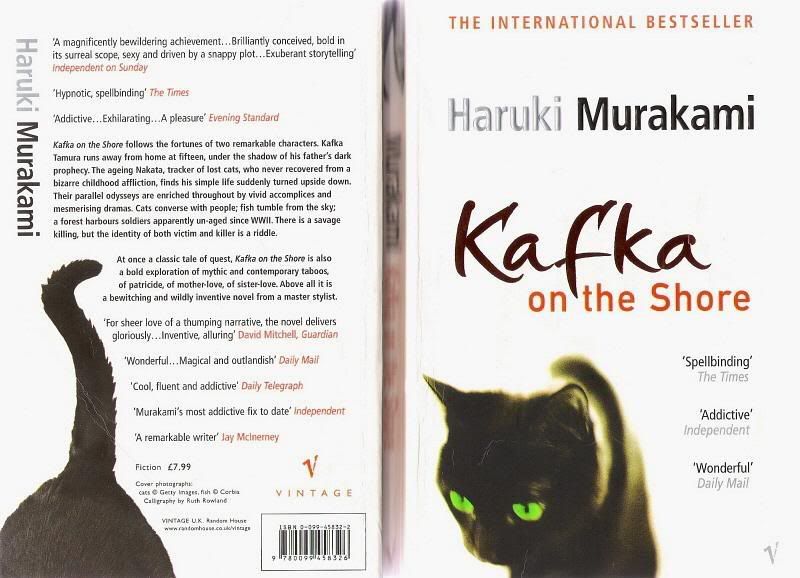 I thought reading Haruki Murakami is hard. I do not mean plot but the language. Since forever, I always thought good writers always write with the styles and vocabularies that I cannot understand. Haruki proved that my belief was wrong. I cannot say anything about the plot because I have not finished reading them but I guarantee you that his books are more than worth buying.
Who would have expected to have fish raining from the skies? That is the kind of story that I have been waiting for. Halfway through his books, I am definitely going to put him among my favourite writers along with Malcolm Gladwell and Orhan Pamuk.-The Chukai Insider